UPS (Ground) Shipping Timeframe Map: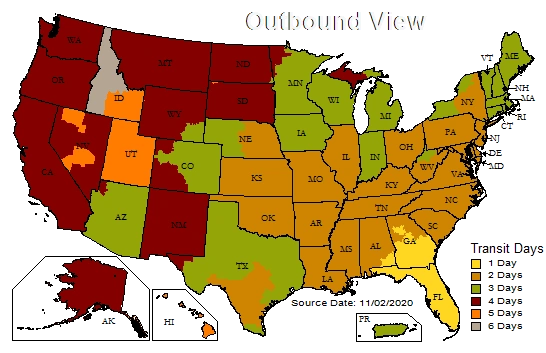 Contact Us
FOR QUICKEST RESPONSE
, we have multiple personnel running our social media pages. If you cannot get through to our phone lines, please send a direct message through our Instagram/Facebook @TwistedProAllTerrain
General Information:


sales@twistedpro.us 
(904) 615-1720  
(

sí, habla español)
COVID-19: Due to state regulations and other local business requirements, our physical office hours have changed. Majority of sales and marketing staff are working from home. Please E-Mail or Direct Message us through our social media pages for the fastest response. Instagram/Facebook: @TwistedProAllTerrain
Our Business Hours Are:
Mon: 

10am to 4pm EST
Tues - Friday: 

10am to 5pm EST


***If your order was placed on a Friday afternoon, your order will be shipped the following Monday. 
We are located in Jacksonville, FL so please allow 3-5 days to receive your order after it has been shipped for those that are located on the West Coast or in Canada.
Dealer Inquiries:
Please E-Mail us at sales@twistedpro.us for the Authorized Reseller Application. Once we receive your completed application and corresponding documents, you can be ready to make your order within minutes. Please contact our sales department to get you started today!
Marketing/Sponsorships:
Marketing@TwistedProAll-Terrain.com or Sales@TwistedPro.us
Feel free to E-Mail us at any time regarding any questions you may have. Please be patient as we do receive many E-Mails a day, we will certainly reply back to you as soon as possible. 


Although all orders ship within 24 hours, Due to the supply and demand of our products, please expect the product arrival date to be within 7 to 14 business days if ordering a larger quantity (for
select

products only)